"Yes", they say, "it sounds great, but I don't want to lose money". This is the biggest concern we hear from potential clients. They love the idea of investing with their values but are genuinely concerned over the common misconception that impact investments underperform when compared with traditional investment methods.
The Research
In 2015, Deutsche Asset & Wealth Management and Hamburg University conducted an analysis of over 2,000 empirical studies showing the relationship between environmental, social and governance (ESG) factors and a company's financial performance. They found that an overwhelming majority of these studies have found a positive correlation when reviewing decades of data.
From 2016 to 2018, sustainable, responsible and impact investing (SRI) has grown by more than 38% with an estimated $12 trillion in total assets under management in 2018 due to these investment strategies.
You don't have to rely on research papers, however. You can take a look at pure performance results by comparing the performance of sustainable stock indexes, like the MSCI KLD 400 with a conventional stock index like the S&P 500.
Stock Indexes
The Standard & Poor's 500 Index (S&P) is a stock market index showing the performance of the 500 largest U.S. stocks. It is widely accepted as the best indicator of market volatility and performance. Other common benchmarks including the Dow Jones Industrial Average and the Russell 2000 Index are also well-known indicators.
The MSCI KLD 400 Social Index was launched to consider environmental, social, and governance factors and includes 400 companies of the 3,000 largest U.S. companies in the U.S. equity market. Similar to the S&P 500, companies are chosen to be represented at one point during each fiscal year. Unlike the S&P, companies are only eligible to be included on the KLD if they have exemplary social and environmental records. Companies are screened on a number of various social factors.
Since 1990 when the KLD started screening for ESG factors, it has performed slightly better than the S&P 500.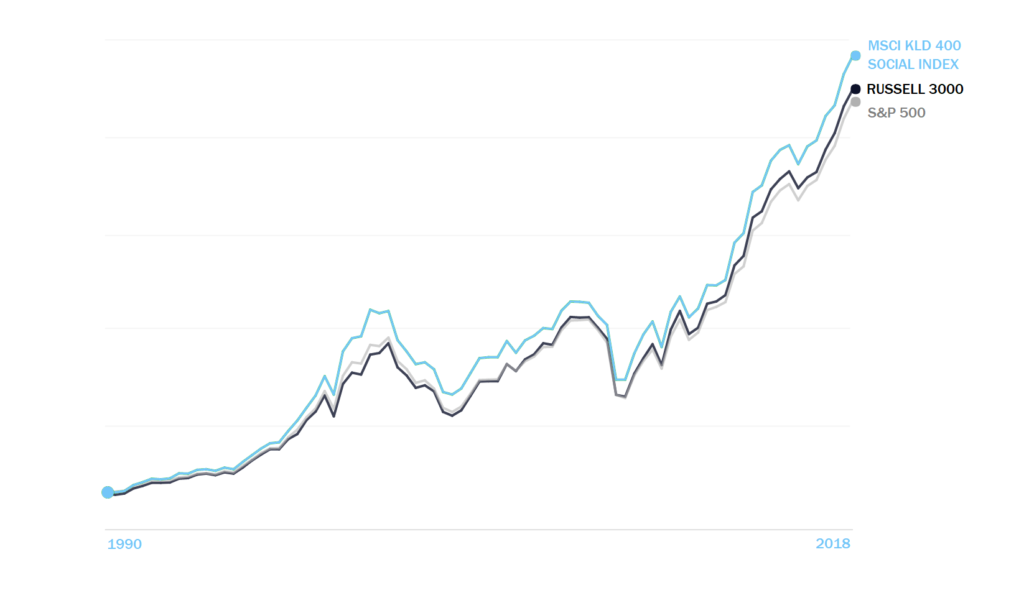 Sustainable investing continues to make waves in the investment world. While many critics still hold on to the notion that sustainable investing divests from those industries making money (namely gas and oil), it's no longer limited to standard divestments. Multiple different screens, comprehensive investments, and divesting from individual companies that don't align with investor values are all options.
Check out our various impact investing portfolios including Environment, Diversity & Equality, Peace, and Human Rights. Each starts with our recommendations and screens but can be customized to your individual investor requirements.
Many of the world's largest and most successful companies are working to improve their ESG factors, and an ever-increasing number of investors are recognizing the benefits of impact investing. In short, we're just getting started.
Make money. And make an impact.
As we've mentioned, impact investing is an investment strategy that considers both financial returns and social responsibility.
In other words, it' isn't just the right thing to do, it's the smart thing to do.
Want to learn more about impact investing and how you use your money for good? Reach out to us @ info@investedinterests.com