Impact Investing refers to investments "made into companies with the intention to generate a measurable, beneficial, social or environmental impact alongside a financial return." There are two primary reasons that you might choose Impact Investing. One, you are conscious about how your money impacts the world, and two, you want to use your dollars to support social change.
Performance: Will I have to sacrifice returns?
Not at all. You absolutely can make an impact without sacrificing returns. The MSCI KLD 400 Social Index is comprised of companies with high ESG ratings and avoids companies incompatible with specific values-based criteria. This index, which is the oldest ESG index in the US, has shown that ESG can create added value – by outperforming the S&P 500 for the last 25 years.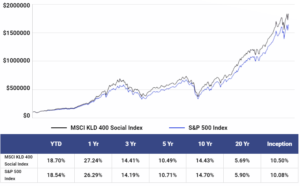 Measuring Impact: What impact are the companies making?
One advantage of investing with an impact-focused company, such as Invested Interests, is that we and the funds we work with do the heavy lifting for you. We identify the funds that have screened companies that are both making an impact and are poised for growth and include them in your portfolios. This marriage of purpose and profit sits at the heart of Impact Investing.
When you're ready to invest your money, you'll want to do it the right way.
Managing your own investments may not be right for you, and perhaps you don't want to work with a big company either. Companies, like Invested Interests, are making it easier for people to invest with their values and not only that, but our only focus is Impact Investing, which gives us the opportunity to give our clients all the attention they deserve. 
Dip your toe into Impact Investing with $100 or $10,000, whatever feels right to you. Low fees and diversified portfolios make it nice and easy to dive in and make a difference.
Are you ready to start aligning your investments with your values?! Reach out to us @ info@investedinterests.com