This topic hits a little different for us. Investing in Peace is so closely related to the story of Invested Interests. Whether you're talking about investing in companies who make efforts to support non-violent negotiations or divesting from companies who turn a blind eye, supporting peace efforts with your portfolio is something everyone should pursue. 
Our Story
We don't often talk about our story, because well we like to shine the spotlight on those who need it most but today, our story and our topic of discussion go hand in hand. 
The passion behind invested interests began in 2003 with news of the Darfur Genocide. During this crisis, the Janjaweed began slaughtering, raping, and torturing Darfuri men, women, and children in Western Sudan. To take a stand against these atrocities, the Sudan Divestment Task Force led universities, endowments, and other institutional investors to divest from companies supporting the regime. 
Invested Interests worked with the Sudan Divestment Task Force to make their divestment list available through online tools and portfolios that helped individuals investors avoid the targeted corporations. Divesting in specific companies, like Schlumberger and PetroChina, has had a significant impact in the region. And while human rights in Sudan remains a pressing issue, progress has been made since 2008.
Support Peace with your Portfolio
At invested interests, we take two approaches when it comes to supporting peace. We focus on good companies to invest in and bad companies to divest from.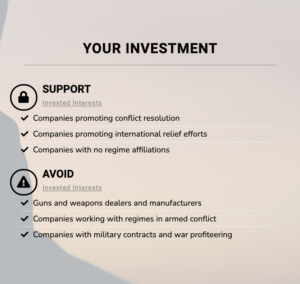 We believe that companies can play a positive role in promoting peace and limiting conflict around the world. Our peace portfolio follows the following guidelines to ensure your hard-earned money makes the biggest possible impact.
We invest in: Companies promoting conflict resolution, companies promoting international relief efforts, and companies with no regime affiliations.
We divest from: Guns and weapons dealers and manufacturers, companies working with regimes in armed conflict, and companies with military contracts and war profiteering.
Why you need to invest in Peace
According to the world population review, there are currently 232 countries currently at war. Some of the biggest conflicts within that list are those that are occurring in Afghanistan, Yemen, and Syria. 
Afghanistan
In 2019 alone, this seemingly never-ending war claimed over 41,700 fatalities. Although this war has been on and off since 1978, this current phase has been ongoing since 2001.
Yemen
The war in Yemen began five years ago and is estimated to claim over 233,000 lives by the end of 2020. The United Nations has called this conflict one of the "greatest preventable disasters facing humanity".
Syria
The on-going conflict in Syria has been declared the second-deadliest war of the 21st century. This civil war began in 2011 and today has approximately 500 U.S. troops deployed in the country. According to the Council of Foreign Relations, this conflict has internally displaced 6.2 million people.
You can make impactful choices
Oftentimes it's really easy for us to turn a blind eye to what is happening in foreign countries. We simply get lost in the internal issues we see in our daily lives. However, just because we don't feel the ramifications of these conflicts, it doesn't mean we can't have a positive impact. If you're unsure what companies are included in your investment portfolio, it's hard to determine whether or not your financial assets are contributing to peacebuilding efforts.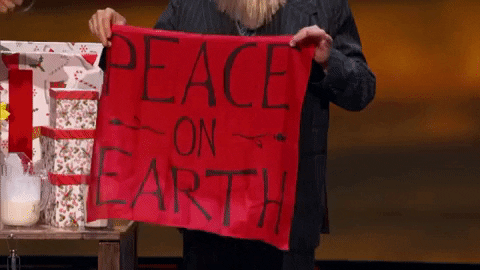 Through impact investing, you not only have peace of mind that you aren't indirectly supporting armed conflict, but you'll have confidence in knowing your investments are doing the most to make a positive impact. If you're unsure how to start impact investing or are curious about other ethical investment strategies, we'd love to get in touch. Connect with us today to start making an impact with your investments.