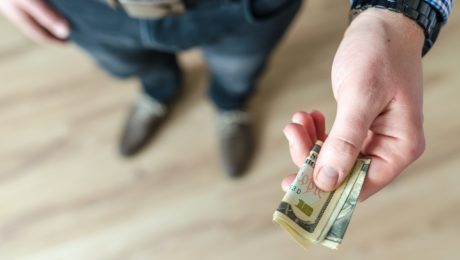 Well folks we've got a long-awaited topic to tackle today. Out of all of the questions that come across our desks there is one to rule them all, "Does impact investing lead to lower returns?". It's a really good question, so believe me we aren't knocking you for asking, honestly, it's something we'd be asking too if we weren't so immersed in what we do for forty hours a week. The short answer is no, absolutely not. Now at this point you could just take our word for it and carry on with the rest of your beautiful Sunday plans, but if you'd like us to put our money where our mouth is we've done that too. 
What is impact investing?
Impact Investing as a term has taken on a variety of definitions, but essentially it is a type of investment strategy that includes intentional investments that generate positive, measurable social and environmental impact alongside a financial return. That's right, read that again, alongside, not instead of, meaning that by definition you can expect to see returns. 
"It turns out that investing in solutions to social problems can be profitable." – Alex Lamb, partner with New Summit Investments in Manchester, Massachusetts, a fund-of-funds manager of private market impact funds.
You can become an impact investor by opening one of many investment accounts available to you from an IRA for retirement to joint investment accounts or individual investment accounts. Now the reasons why people chose to become an impact investor varies from person to person. Sometimes people are tired of not knowing where their money is going, they want more control over the impact they make, or they are just curious to see what we're all about. 
Where did it come from?
The term impact investing was coined back in 2008 by the Rockefeller foundation when the conversation started to emerge about how to use capital differently. Around the same time, we began to see new terms around the same concept come to life from socially responsible investing, to ESG Funds, and ethical investing. Although these terms are distinct from each other, they all work to serve the same purpose – aligning your financial growth with the impact you want to make on the world around you. 
How is Impact Investing doing today?
Research shows that socially responsible investing funds have done better in the last 20 years than traditional investing funds. So why don't more people talk about it? Well, most financial advisors have been taught or have worked with the understanding that investing should only be about making money, which at a fundamental level isn't a bad way of thinking. However, times are changing and in the world, we currently live in you no longer have to settle for making money or doing good things for the world. As an impact investor, you can have it all (if you have the right coaches helping you along the way). 
If you're more of a numbers person, here are some stats that we hope soothe your worries.
The MSCI KLD 400 Social Index is composed of companies with high ESG ratings and avoids companies incompatible with specific values-based criteria. This index, which is the oldest ESG index in the US, has shown that ESG can create added value – by outperforming the S&P 500 for the last 25 years.

A review

by the German investment fund DWS and the University of Hamburg of more than 2,000 studies, for example, found that 63% showed a strong correlation between ESG performance and positive returns, while 10% showed a negative effect.

In its August 2019 report Sustainable Reality, Morgan Stanley

concludes

: "We found that sustainable funds provided returns in line with comparable traditional funds while reducing downside risk. What's more, during a period of extreme volatility, we saw strong statistical evidence that sustainable funds are more stable. Incorporating environmental, social, and governance (ESG) criteria into investment portfolios may help to limit market risk.

Socially responsible investing is the fastest-growing segment of the investment management world.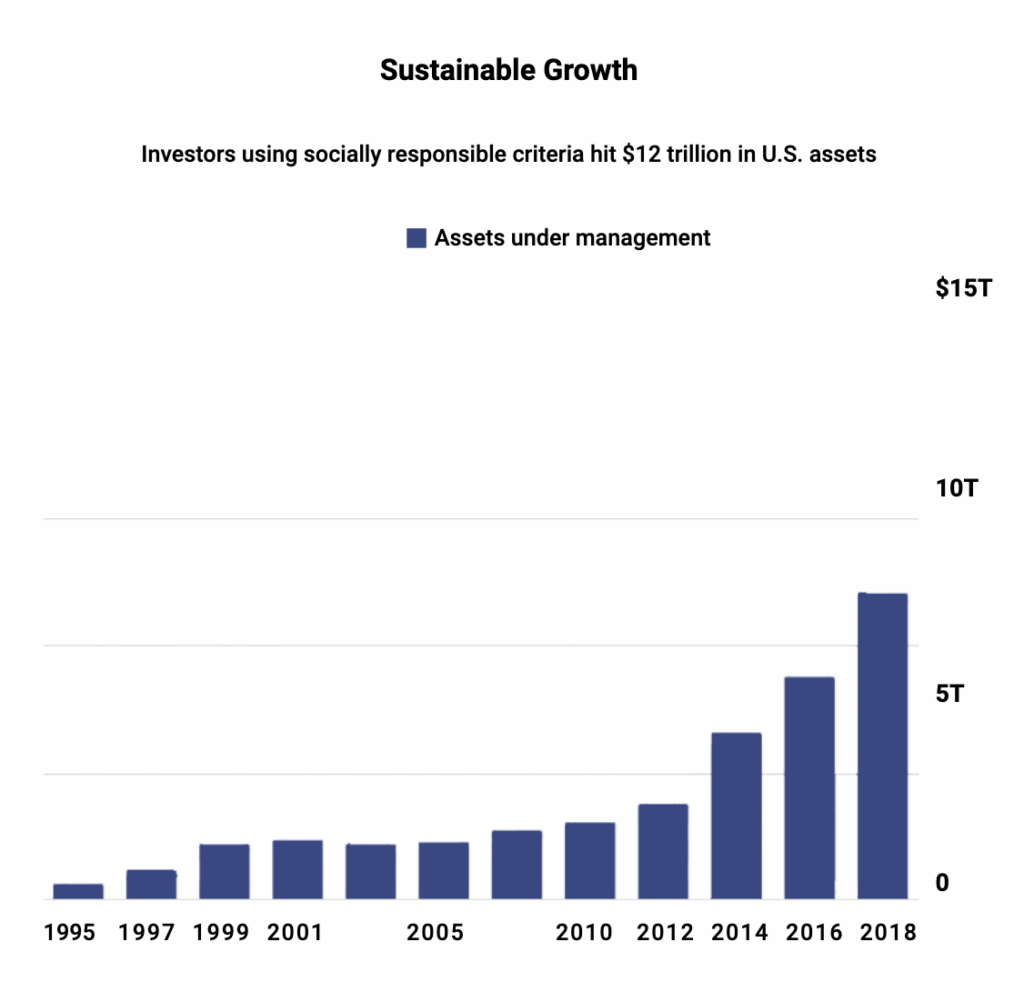 Final thoughts
You absolutely can make an impact without sacrificing returns. If any of this has piqued your interest, we'd love to sit down with you and discuss how this investment strategy can fit into your life. Whether you're passionate about impacting the environment, global peace efforts, or human rights & diversity efforts we've got a portfolio for you. Our team can help you get started on your impact investment journey in just five minutes, so reach out to us! We're excited to coach you through the next great step in your financial future.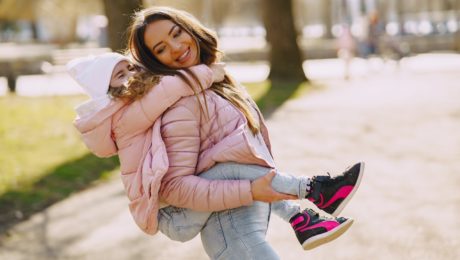 Why do bad things have seemingly good names? Sugar-coated titles are deviously clever and while I understand where this one in particular, comes from, I'm not a fan. For those who've never heard the sickeningly sweet name before, The Pink Tax is "a phenomenon often attributed as a form of gender-based price discrimination" which is a very awful thing. I mean, it's 2020, we're about to have a female Vice President, #girlboss is on every kind of merchandise that you can buy, and yet women are still finding new ways they have been discriminated against. While The Pink Tax is nothing new, we think it's important to keep the conversation going until we see some real change. 
What is the Pink Tax?
The Pink Tax isn't another name for the wage gap, although it has a similar effect. Essentially, The Pink Tax is the extra amount of money women pay for the same products and services that men use. Some people call it price discrimination or gender pricing, which are far more informative names but they aren't as catchy. 
To put it into a practical context, think about deodorant. Whether you're male or female, we're willing to bet that you sweat and therefore you buy deodorant. Now in a perfect world how much you sweat should impact what kind of deodorant you buy. There would be different products that catered to the amount of sweat you produce (moderate, extreme control, etc.) but that's not how the aisles at the drugstore look. Instead, there are lines of men's deodorant and women's deodorant catering to the different sexes with different smells and packaging designs, but as many women know the men's deodorant tends to work better – and it's cheaper. Blogger Shay Marie of Bellatory depicts this reality in one of her popular articles. 
"Brands like to jack up the price of women's products. They sell virtually the same products to men—minus some girly colors and some stuffy granny scents—for vastly lower prices. I was spending anywhere from $5 to $6 for my antiperspirant, and now that I use a man product, I spend $1 to $2 less per stick."
So Why would any woman buy a product that we don't think works that well, and costs us more money? Personally, I think it's because we don't realize we're being treated unfairly. It wasn't until my freshman year of college that I realized it was often cheaper to buy men's razors, deodorant, and sometimes even clothes. The sad thing is, I didn't question the fact that women were having to pay more. It seemed to fall right in line with the fact that our government has continuously had shortcomings in regards to female equality. I do wonder though, how many women haven't noticed the price disparity between these common products and have simply continued to spend nearly 1,300 dollars more a year just for selecting the products specifically marketed toward women. If you're curious as to what the estimated price increase is by product type, here's a quick breakdown.
7% more for toys and accessories

4% more for children's clothing

8% more for adult clothing

13% more for personal care products

8% more for senior/home health care products
The Pink Tax Repeal Act. 
Now, we bring good news and bad news. The good news is that there are officials in our government that notice this "phenomenon" and clearly see what's wrong with it. Congressman Jackie Speier first introduced The Pink Tax Repeal Act back on Jul 8, 2016, and again on April 10, 2018, unfortunately, the bill is still currently up for debate. According to Govtrack.com, the odds of passing this time around are as follows "The bill has 51 bipartisan cosponsors, 49 Democrats and two Republicans: Reps. Brian Fitzpatrick (R-PA1) and Tom Reed (R-NY23). It awaits a potential vote in the House Energy and Commerce Committee. Two previous versions introduced by Rep. Speier in 2018 and in 2016 never received a vote, although the House was controlled by Republicans both times."
Now we know what you're thinking. What on Earth is taking so long? At first glance, it seems like a no brainer, men and women should pay equally for the same product, but there are more nuances once you talk about actually implementing changes. Those who oppose the bill have the following concerns:
"Most goods cannot be readily identified as 'male' or 'female' products," a California Judiciary Committee report wrote in summarizing both the arguments for and against a state-level version. "With the exception of undergarments or goods clearly labeled 'for men" or 'for women,' retailers will often be required to engage in gender stereotyping in order to identify a product as inherently associated with one gender or the other."

"The Chamber [of Commerce] asks, for example: 'Is a pink shirt a female shirt just because of the color? Comparatively, is a blue or teal razor a male razor just because of its color?' The Chamber notes that for many products, especially children's toys, manufacturers and retailers are moving away from targeting toys specifically to boys or girls."
We recognize that there is a lot of grey area present when it comes to gender-specific products, and navigating those unknowns is going to take a lot of time. However, it's clear that the bill aims to correct serious economic discrimination against women. Supporters of the bill have said the following:
"The Pink Tax is not a one-time injustice. It's an insidious form of institutionalized discrimination that affects women across the country from the cradle to the grave," Rep. Speier

said in a press release

. This predatory practice is unacceptable, un-American, and it will end with the passage of my bipartisan bill."

"The Pink Tax also compounds the damage wrought by the gender wage gap, which sees women paid less for doing the same work as their male colleagues, losing on average more than $400,000 over the course of their lifetimes," Rep. Speier continued. "That financial hit is even more catastrophic for women of color and can extend into the millions of dollars."
Our hope for the future.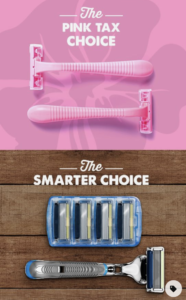 If you didn't already guess, we are really excited about January 20th, 2021. With the upcoming presidential term comes the first term with a female vice president which we hope will help push issues pertaining to women's rights to the forefront of political conversations. For now, the best way to make your opinion known is to get in contact with your state representatives and voice your support! Not only for The Pink Tax Repeal Act but for all issues pertaining to gender equality and women's rights.
If you're looking to make immediate changes to avoid The Pink Tax, keep your eyes out for the brands that have opted to utilize gender-neutral marketing and packaging practices. Dollar Shave Club has addressed The Pink Tax issue head-on, and other companies like Public Goods have stayed away from the gender-stereotyped designs as a whole and we're slowly starting to see more companies follow those footsteps. Our hope is that one day, economic discrimination won't be as blatant nor as tolerated as it is today, until then, we've got work to do.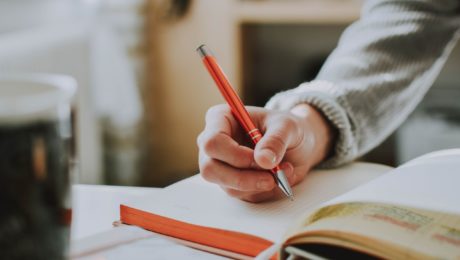 At long last, we've come to kick start your 2021 investing resolutions! Whether you've never opened an investment account before, or you're a seasoned pro looking to try your hand at a new type of investment, we want to help you get started. I don't know about you, but my life is much simpler when I have multiple lists. Grocery lists. To-Do lists. You name it, I'll take it. So, for all you list lovers out there we've created a pre-investing checklist that you're welcome to use as is, or adapt to fit your needs. Without further ado, here is our recommended roadmap for starting a new investment.
Nail down your values & goals
This seems pretty self-explanatory at first glance, but it's more than just identifying your financial goals. If you don't already have a clear list of what you value from a company, and from life in general, this could be a good exercise in self-reflection. Once you're more familiar you are with what you hold valuable, you'll be able to make better decisions down the road. 
Remember, you don't have to settle for any company, investment strategy, or financial plan that doesn't align with what you hold valuable EVEN if those things seem like the only option to reach your goals. I promise there are other options out there, which brings us to step two.
Research types of investments and strategies
It's hard to choose the best options when you don't know what all of the options are. Good news for you, In the world of investing, the options are almost limitless and there is always something new to learn. Now that you have your values and goals clearly defined, it's time to research the investment options that align with what's important to you. 
There are many different investment account options out there, from IRA's to mutual funds, micro-investing, and major stock market stalking. If you already have one of these accounts, great! You have some frame of knowledge to work off of and can now decide where or not you want to change course this time around. If you have none of these accounts, that's also great! It means you're about to make a really smart decision for your financial future. 
No matter where you're standing on your investor timeline, researching the options you have is crucial to having confidence in your new account. Once you know what kind of investment you're looking to make, it's time to get your ducks in a row. 
Determine your starting amount
By ducks, we mean your dollars. This is the not so fun part for a lot of people, especially first-time investors. We get it. You've worked hard to save up all of this money and now it feels like you're losing it because you don't see any instant gratification and you might have to wait a bit longer for results depending on the investment route you've chosen. 
But making an investment is not the same as making a purchase. Yes, you're going to have some risk, but in most cases, you have a say in how much risk you're okay with. And if you're working with smart people who know how to manage your money well, you'll gain far more than you feel to have lost, but we'll elaborate on that later. 
For most investment accounts, you'll need to have a reasonable amount of cash ready to play with. Now the exact numerical value is dependent on a lot of factors, so we won't give you a magic number to meet, but unless you're looking to micro invest, you're probably going to want to have an amount with more than two digits.
Select a management company
This is the exciting part because it's kind of like dating. You know what you value, what you want your financial future to look like, you're prepared to make the leap, and now you're looking for the right partner to support you and help you grow in the right direction. 
Choosing the right management company typically comes down to a few things. Reputation and creditability, personality and connection, and the ability to clearly communicate how they can help you succeed. You don't want to go into business with the first management company that crosses your path simply because they were the first. Do your research, ask the tough questions, and read their customer testimonials to figure out if the company is really a good fit for you. Also, do not feel bad if you want to shop around a little bit. Some companies may offer you things you didn't even know you wanted, like a "no asset minimum policy", or the ability to start impact investing. 
Open your investment account!
Depending on who you choose to invest with, this might take a little bit. Sure there will be some forms that need your signature, and maybe a few follow-up meetings, but after you've dotted your i's and crosses your t's you can relax! You've done everything you need to do to let your hard-earned money work for you, rather than letting it collect dust bunnies under your mattress.
Hopefully, this breakdown helped clarify that starting to invest isn't as scary as it sounds and depending on the management company you choose it can take as little as 5 minutes to get started. Plus, you'd be able to say you completed your New Years' resolution two weeks into the year, and we think that's pretty awesome.